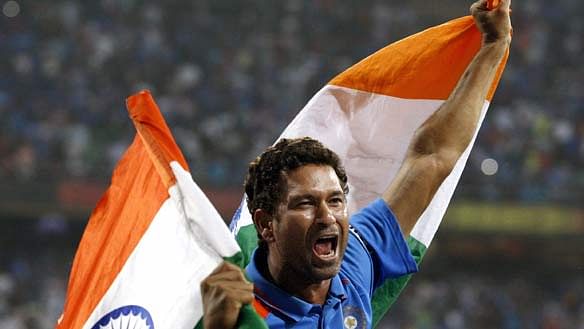 The dreaded day is finally here.
My childhood hero. The reason I started watching cricket. Sachin Ramesh Tendulkar retires from all forms of cricket.
God retires.
He taught an entire nation how to dream. He taught us how to believe that anything can be possible. He gave the nation hope.
I will not repeat the staggering list of records that he holds because for me, they do not matter as much as the fact that whenever he came out to bat, I felt proud to be an Indian.
Sachin is, for me, India's best sportsperson. He is the best ambassador of the game. He showed a young nation how being honest, hardworking and humble in any field can propel you to greatness. He showed the world that age is just a number when he made his debut at 16 and then again when he became the first person to score a double century in a 50 over match.
His child like enthusiasm is contagious. His dedication to the game and ability to adapt has ensured that he has stayed and thrived at the game even after more than two decades. He respects his opponents and has earned the respect of all his opponents.
He was the baby face assassin. Opponent teams used to be on their toes till Sachin got out because they knew, just like the Indian audience, that till Sachin is there on the field, anything is possible.
It was sometimes surprising how a person could carry the expectation of a billion people on his shoulders and still look so calm and composed on the field.
He has been asked to retire a lot of times. Forced out of the team. And what did he do? He came back! The Juggernaut rolled on. He has never been too vocal about anything. He, as Ravi Shashri would say, lets his bat do the talking. He has achieved almost everything that a cricketer could have achieved. Still, he has faced a lot of criticism. One of the them was India not winning when Sachin scored runs. I find that one the most demeaning for the great man. I mean, if he scores more than half the runs required at less than a run a ball and the rest of the team cannot even finish the game then how is it Sachin's fault?
For me, Sachin was the hero that India needed but not the one that it deserved.
Cricket will not be the same. Indian cricket team will not be the same. I don't think I can watch cricket anymore. If I do, I don't think I will ever forget the feeling of anticipation and expectation that I had every time Sachin came out to bat.
Sachin, for all you have done for the country and for us, THANK YOU!
Good bye Little Master. You will be missed.
- A Fan
P.S. - This is definitely not my best work. I am somehow unable to write.